Baseball, a Celebration. - books on baseball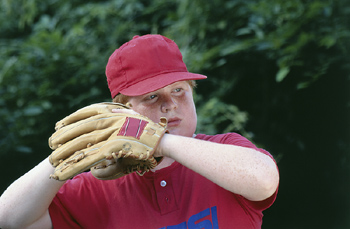 Baseball, A Celebration, by James Buckley Jr. and Jim Gigliotti (DK Publishing, 2001; $50)
Baseball As America: Seeing Ourselves Through Our National Game, developed by the National Baseball Hall of Fame and Museum (National Geographic Society, 2002; $40)
Breaking the Slump: Baseball in the Depression Era, by Charles C. Alexander (Columbia University Press, 2002; $29.95)
Late Innings: A Documentary History of Baseball, 1945-1972, edited by Dean A. Sullivan (University of Nebraska Press, 2002; $29.95)
Safe by a Mile, by Charlie Metro with Thomas L. Altherr (University of Nebraska Press, 2002; $29.95)
Taking in a Game: A History of Baseball in Asia, by Joseph A. Reaves (University of Nebraska Press, 2002; $29.95)
Baseball has become a global game. Long a national passion in Japan and in some parts of the Caribbean and Latin America, it has more recently been adopted elsewhere in Asia as well as in Europe, particularly the Netherlands and Italy, and Australia. Some excellent books have been written about baseball in the Dominican Republic, Nicaragua, and Cuba. Now, Joseph A. 1Keaves, who once covered Asia for the Chicago Tribune, writes about the development of baseball in Korea, the Philippines, China, and Taiwan in Taking in a Game: A History of Baseball in Asia. After Americans introduced baseball to Japan in the 1870s, the Japanese transformed the game and became the dominant missionaries of baseball across Asia. "Little ball" as the Asian game is sometimes known, involves playing for one run at a time; it prizes discipline, conformism, hierarchy, control, sacrifice for the good of the group, harmony, respect for management, and a reluctance to criticize. America's "big ball," of course, favors personal achievement, innovation, creativity, and individualism.
More than 200 books about our national pastime appear each year. Many are fluff--trivia, statistics and records, profiles of particular teams. But there is also some fine scholarship, much of it done by historians. Charles C. Alexander's Breaking the Slump, for example, describes pro ball during the hard times of the Great Depression. Back then, baseball games were played during the day and, because of few pitching changes, were quick (about one and three-quarter hours). Only sixteen major-league teams existed (today there are thirty), and all were in cities on or east of the Mississippi River.
During the 1930s, major-league organizations were just beginning to build minor-league farm systems as a source of big-league talent. Conditioning and sports medicine were in their infancy, with the treatment of injuries seldom going beyond massage or Mercurochrome--although some physicians, curiously, prescribed the removal of teeth or tonsils as a cure for sore throwing arms. Baseball stadiums were called parks or fields. Built with private capital, Wrigley Field, Comiskey Park, Ebbets Field, and Shibe Park bore the names of the men who financed their construction. Sadly, at the very time that the United States was preparing to fight a war against totalitarian regimes and their doctrines of racial supremacy, our national game at the highest level was reserved for whites only.
The postwar years are taken up in Late Innings: A Documentary History of Baseball, 1945-1972, the third volume in a series of anthologies of news articles, private letters, legal decisions, and league communications that have been compiled by baseball historian Dean A. Sullivan. Topics include everything from Jackie Robinson's assault on the color bar to the effects of television on fan attendance and the labor unrest in baseball during the 1970s.
Safe by a Mile is the story of Charlie Metro, a colorful minor- and major-league player, coach, manager, and scout whose career spanned the 1940s through the 1980s. This excellent oral history was conceived by historian Thomas L. Altherr (who, in my opinion, takes too little credit for his role in the book). Among Metro's many coaching assignments was the Carolina League's Durham Bulls (FYI, he makes clear that he never allowed the clubhouse hanky-panky portrayed in the popular movie Bull Durham). I was intrigued with Metro's spring training experiences at the Detroit Tigers complex known as Tiger Town, because I was a minor-league player there at about the same time. One of Metro's friends in Tiger Town was Bernie DeViveiros, a master of sliding and the man who scouted me. On the night I signed a contract with the Tigers, Bernie (to my mother's horror) demonstrated the hook leg slide on my parents' new living-room carpet.
Baseball and photography have evolved together since the 1800s, and Baseball, A Celebration is a lavishly illustrated account of that history. Since early cameras and film were too slow to capture the action of a player swinging a bat or diving for a ground ball, posed portraits of individuals and teams were the standard, and many were taken in studios rather than on the field. Once portable cameras with faster shutter speeds were introduced, photography became an everyday part of baseball reporting. I wish there had been more photographs of minor-league baseball, however, because the game there is as colorful and as American as the big-league version.
Baseball As America, the official companion volume to the National Baseball Hall of Fame and Museum's traveling exhibition (on view at the American Museum of Natural History through August 18), explores the relationship between baseball and American culture through a collection of vivid illustrations and essays. David Rockwell writes on designing stadium interiors; chef and cookbook author Molly O'Neill, on the primal importance of the hot dog in baseballs; filmmaker Penny Marshall, on the making of A League of Their Own. In "The Mills Commission and Doubleday," Tom Sheiber and Ted Spencer reveal how sporting-goods mogul A. G. Spalding manipulated the 1908 special commission investigating the origins of baseball, pushing the commissioners to support his view that Abner Doubleday invented the uniquely American game and that it had not evolved from rounders, an English schoolboys' game.
Many of my academic colleagues still don't understand why such scholars as Alexander, Reaves, or I study baseball. They seem to adhere to an old-fashioned, elitist view that sport is of the body, not of the mind, and is therefore not intellectual enough to merit serious attention. A sociologist friend dismisses organized sport as "mere play." I like to remind him that the space given to sports coverage in our nation's newspapers now surpasses that of any other single topic. The games we play, and how we play them, seem to be as valid a reflection of our culture as are our politics, religion, or literature.
Anthropologist George Gmelch played professional baseball in the 1960s and has published In the Ballpark: The Working Lives of Baseball People (1998, with J. J. Weiner) and Inside Pitch: Lire in Professional Baseball (2001).