Baseball's 11 greatest individual streaks in major league history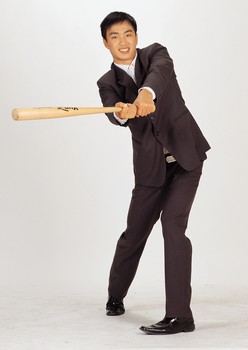 IN BASEBALL, STREAKS OF SUCCESS BY HITTERS, PITCHERS AND FIELDERS come and go. While in progress, they generate extended interest among fans, the media and players themselves if they reach eye-catching heights.
Such was the case earlier this season, when Roger Clemens won nine straight games against no losses into mid-June, while left fielder Carlos Lee of the White Sox produced a hit in 28 consecutive games through the same period of time.
In suffering his first defeat as an Astro in a game on June 14 against the Cubs, Clemens was out-dueled by Mark Prior who earned the decision, 7-2.
"I was battling all night," admitted Clemens who obviously couldn't find his groove. "My stuff seemed like it was good enough, but after a while everything was up in the zone, and I paid for it."
Actually, the loss ended Clemens' run of 13 straight wins that extended back to September 11, 2003 when he pitched for the Yankees.
In setting a White Sox club record, Lee saw his streak terminated on June 16 by Marlins' starter Carl Pavano who held him hitless in four at-bats while pitching a complete-game, 4-0 shutout.
"Everything in life comes to an end," said Lee after the game in which he whiffed twice against Pavano. "It was a nice stretch."
Lee walked slowly back to the dugout after his final strikeout in the ninth inning. "I was upset because I swung at a bad pitch," he said. "I didn't get a good pitch to hit. Not just me, but all nine guys didn't get much to hit from Pavano."
Although noteworthy, the streaks this year by Clemens and Lee fell far short of some of the game's most memorable records of non-stop excellence.
Their efforts, nonetheless, stimulate, an intriguing question; to wit: What have been the most impressive individual streaks of a positive nature in major league history?
Think it over a bit, and see how the following 11 record-setting choices might agree or disagree with yours.
In 1941, from May 15 through July 16, Joe DiMaggio hit in 56 straight games. His streak finally came to an end on July 17 in a game against the Indians in Cleveland. Some superb fielding by Indians' third baseman Ken Keltner helped halt DiMaggio who batted .408 during his two-month spree.
"I'm tickled to death it's over," Joltin' Joe said after the game. "Did you know if I got a hit tonight, I would have made (an extra) $10,000? The Heinz 57 people wanted to make some kind of (endorsement) deal."
On July 18 against Bob Feller, DiMaggio started a second hitting streak that reached 16 games. The man was in a zone of consistency for a remarkably long time.
2 From May 30, 1982 through September 19, 1998, Cal Ripken played in 2,632 consecutive games for the Orioles. On the following night, 30 minutes before the final Orioles home game of the year, he unexpectedly asked manager Ray Miller to take him out of the lineup. He wasn't hurt and he could have played, but he felt it was time to end his streak.
Actually, the most extensive, national attention to his endurance record was paid on September 6, 1995 when he broke Lou Gehrig's long-standing mark by playing in his 2,131st straight game before a crowd of 46,000 at Camden Yards.
In attendance, besides President Bill Clinton, was Joe DiMaggio who said, "Well, that goes to prove the greatest records are made to be broken."
3 For 23 consecutive seasons, from 1906 through 1928, Ty Cobb batted .300 or better, a record that may prove DiMaggio wrong.
In that span, Cobb, a left-handed batter and ferocious competitor, started by hitting .316 in 98 games in 1906 as a 19-year-old with the Tigers and finished with a .323 average in 95 games in 1928 with the Philadelphia A's at age 41.
Tiger teammate Davy Jones once recalled, "When Cobb got into a slump, you couldn't talk to him. He got meaner than the devil himself."
Slumps for Cobb might have lasted two or three games at most.
While his competitiveness didn't win him many friends on the field, he batted .366 lifetime over 3,035 games played. And, it might be noted that since his time, the closest any major leaguer came to his 23-year streak of hitting .300 or better in 50 or more games was Tony Gwynn who did it 17 years in a row (1983-1999).
4 Right-handed batters hated to face the Dodgers' Don Drysdale for good reason. "Don's fastball had a tendency to sink and bear in on a fight-handed batter," manager Walter Alston once said. "It was his best pitch, the kind of delivery that often breaks the bat in the hitter's hands."
A hard-throwing right-hander whose pitches sometimes appeared to be coming at the batter from out of third base, Drysdale set an amazing record in 1968 when he pitched six consecutive shutouts. He was unbeatable from May 14 through June 4 when he blanked the Cubs (and Fergie Jenkins), 1-0; the Astros, 1-0; the Cardinals (Bob Gibson), 2-0; the Astros (Larry Dierker), 5-0; the Giants, 3-0, and the Pirates (Jim Bunning), 5-0.
Drysdale was an intimidating pitcher who frequently knocked batters down. "He was mean enough to do it," Frank Robinson once said. "When he did it, he just stood there on the mound and glared at you to let you know he meant it."
5 Joe Sewell was a little guy. He was five feet, six and a half inches tall and weighed about 155 pounds when he played shortstop and third base for the Indians and Yankees from 1920 through 1933, finishing with a .312 career batting average.
He was also the toughest batter to strike out in big league history, and holds the record of playing the most consecutive games, 115, without being fanned. He set that standard with the Indians in 1929 from May 17 through September 19, a span in which he compiled 437 at-bats.
In his 14-year career, he whiffed only 114 times (in 7,132 at-bats), fewer times than many of today's hitters strike out in one season.
"I hit the ball almost every time I swung at it," he once said. "I could see a ball leave my bat."
6 One of the greatest mistakes a club ever made in misreading the potential of a prospect was committed by the Detroit Tigers in 1928 when they let Carl Hubbell escape from their farm system.
A left-handed pitcher who was just then developing a devastating screwball, Hubbell was acquired by the New York Giants that year and eventually became known as the team's "Meal Ticket." He led the club to pennants in 1933, 1936 and 1937
From July 18, 1936 until the end of the season, Hubbell recorded 16 straight victories for the Giants, and then added eight more consecutive wins from the start of the 1937 campaign until he lost to the Brooklyn Dodgers on Memorial Day.
His string of 24 straight wins over two seasons has resisted all challenges, the closest being 20 victories in a row by Roger Clemens with the Blue Jays and Yankees in 1998-1999.
Hubbell, of course is most noted for his consecutive strikeouts of five future Hall of Fame batters (Babe Ruth, Lou Gehrig, Jimmie Foxx, Al Simmons and Joe Cronin) in the 1934 All-Star game. "The third strike on every one of them," Hubbell once recalled, "was a screwball."
7 From August 28, 2002 through July 5 of this year, Dodger reliever Eric Gagne had put together a string of 84 consecutive saves, an effort that places him in the premier class of bullpen closers.
Last season when his streak reached 63 straight saves, he posted 137 strikeouts in 82 and a third innings pitched, a stat that helped him win the National League Cy Young Award.
In discussing Gagne, Hall of Fame closer Dennis Eckersley said, "I never threw as hard as he does. I never had a changeup or whatever that thing is (he has). Man, he's invincible."
Before the 2004 season began, Gagne said, "I want to be the best closer ever. I want to leave a mark."
Needless to say, he already has.
8 In 1949, a year in which he hit .343 and collected 162 walks, Ted Williams reached base in 84 consecutive games, a mark that no major leaguer has ever exceeded, according to researcher Herman Krabbenhoft.
While this is an unofficial record, Krabbenhoft has a reputation as a meticulous researcher and his findings on Williams' on-base performance in 1949 may eventually be stamped "official."
Williams' high on-base percentage could be attributed not only to his keen eyesight. "Never give the pitcher an edge," he once said. "For the first two strikes, wait for a pitch in the power portion of the strike zone. If you have patience, you'll get your pitch."
If he didn't get his pitch, Williams would often wind up walking to first.
9 John (Stuffy) McInnis may be virtually unknown to modern fans, but he set a record for fielding superiority that has remained untouched for more than 82 years.