Remarkable: one-season performances: here are some extraordinary accomplishments achieved by batters and pitchers that are among the greatest in baseball history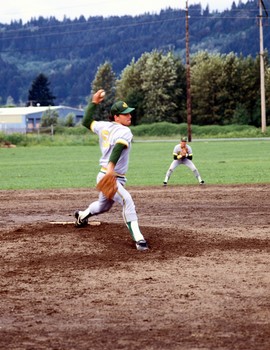 IT'S PERHAPS NOT SURPRISING THAT George Sisler's mark for most base hits in a season, surpassed by Ichiro Suzuki in 2004, was almost never listed among the game s hallowed achievements in speculation about which records were at risk or remained invulnerable.
In a rare instance, in 1998, the year Mark McGwire (70) and Sammy Sosa (66) topped Roger Marls' total of 61 home runs in 1961, their assault making iconic marks a hot topic, a newspaper story headlined "Breakable Records Few" listed Sisler's total of 257 hits in 1920 as virtually unattainable.
A comment noted: "The benchmark for greatness is 200 hits, which is a far cry from 257. A speedy singles hitter would have the best shot because he could bat first (and therefore more). But.... until somebody comes close, it isn't even worth discussing."
Well, somebody did come along, an outstanding player known as Ichiro, no surname required. He did bat leadoff for the Seattle Mariners, and topped Sisler with 262 hits last season, although it took him 161 games compared to the former St. Louis Browns first baseman's 154 four score and four years earlier.
A singles hitter? You might say that. Among Ichiro's' 262 were 37 extra-base hits (24 doubles, five triples, eight home runs) and 225 singles. He led the American League in batting for the second time with .372.
Oddly enough, few if any in the media have bothered to break down Sisler's 1920 total as to singles and extra base hits. To do so is revealing, even astonishing.
Among Sisler's 257 were 86 extra-base hits (49 doubles, 18 triples, 19 home runs) and 171 singles. He was no singles hitter. In fact, his 19 home runs were second only--admittedly a distant second--to Babe Ruth's 54 for the New York Yankees in 1920.
Sisler led the A.L. in batting (.407), total bases (399), was second in slugging average (,632), third in stolen bases (42), and second in RBI (122).
Sisler surpassed his 1920 average with .420 in 1922, and also led the league in hits (246), runs (134), and triples (18), although his home run output fell to eight. He batted in 105 runs, and hit safely in 41 consecutive games.
His performance drew raves from two of the game's most respected experts, Branch Rickey, who signed Sisler for the Browns in 1915, and Frank Shaughnessy, a front office kingpin for more than a half century.
"I never saw anything like it." recalled Shaughnessy of Sisler's hitting in 1922. "Even when they got him out, he hit line drives."
Rickey, best-remembered for the historic signing of Jackie Robinson a quarter of a century later, was not given to superlatives, but Sisler inspired him.
"In that one season," said Rickey years later, "Sisler was the greatest ballplayer who ever lived."
While Sisler appreciated such flattering judgments, he disagreed with Rickey and Shaughnessy.
"I always thought that the year I had in 1920 was better," he said.
The figures cited here for 1920 suggest he had a point. What's certain is that Sisler enjoyed a remarkable season, even if the passage of time has effaced much of its impact on fan and media awareness.
There is no intent in this comparison with Sisler in 1920 to diminish Suzuki's record-setting achievement of 2004, which added luster to his standing as one of the great hitters of the present generation.
Mariners manager Mike Hargrove marvels at his right fielder's talent, on both offense and on defense.
"He swings at balls you wouldn't teach anybody else to swing at, but he hits them hard and he runs well enough that fielders have to hurry on almost every ground ball," said Hargrove. "I don't think there's anybody that compares with him. He does things on the field and at the plate that sometimes you just wonder, 'How'd he do that?'"
However Suzuki did it, he enjoyed a remarkable season in 2004, which no comparison can deprive of greatness.
So did Sisler in 1920, although until Suzuki's challenge came along it was almost lost in the mists of time. which tend to obscure many of the game's notable achievements, as well as some of its less well-known records.
A few of the greatest accomplishments escape such a dismal fate, of course, and remain constant teasers to imagination and conjecture decade after decade..
Such headlines as "Are baseball's unreachable goals actually attainable?" or the previously cited "Breakable records few" and the like frequently remind us of the most famous milestones. Among them are Joe DiMaggio's 56-game hitting streak, Nolan Ryan's 383 strikeouts in a season, Nap Lajoie's .426 batting average and Rogers Hornsby's .424, Hack Wilson's 191 RBI, and Bob Gibson's 1.12 ERA.
Such deeds are kept ever in the forefront of public consciousness by virtually unrelenting media and fan speculation. The questions as to whether anyone will ever again bat .400, capture a batting Triple Crown, or win 30 games as a pitcher never really die, even if they lie dormant for a time.
For instance, when Chicago Cubs first baseman Derrek Lee got off to a sizzling start during the 2005 season, at one point in June leading the National League in batting, home runs and RBI, Triple Crown talk became endemic in the media.
That's all to the good. The more baseball chatter, blather and speculation, the merrier. The fans are entertained, and the game can only benefit from the excitement.
Still it's sad, if inevitable, that the details of many remarkable player performances over a season, such as Sisler's in 1920, are ignored, which may eventually be the case with Suzuki's achievement last year. That's especially true if no "major" record is involved, or if it doesn't represent the best over-all showing of a player's career.
Here's a rundown on five additional remarkable seasons by position players and pitchers in addition to those of Sisler and Suzuki. All deserve far more detailed examination than they usually get instead of being treated in the offhand manner with which Sisler's astonishing 1920 campaign was "dissed" by the media in general:
* Babe Ruth in 1919: It was the Bambino's final year with the Boston Red Sox before being shipped to the Yankees in the game's most celebrated deal.
* Lefty Grove in 1931: About as close to perfection as a starting pitcher could get in the age of the rabbit ball--or in any other era.
* Joe Medwick in 1937: The N.L.'s last batting Triple Crown winner was all-world for the St. Louis Cardinals, but not much more is ever revealed about his total performance that year.
* Hack Wilson in 1930: The record 191 RBI tell only part of the story of the Chicago Cubs center fielder's exploits in 1930, and 1929 also must be taken into account.
* ElRoy Face in 1959: If the emphasis is fixed on W-L rather than on saves, as some would suggest, no reliever ever has been equally successful:
There have been many remarkable season performances in addition to those listed here, but each of these five had exceptional features.
Of none could that be said with more confidence than of Ruth's campaign in 1919, which remains unique in the true meaning of that off-misapplied word.
That season was Ruth's transition year from being the best left-handed starting pitcher in the game, to its most fearsome hitter as an outfielder.
His record as a pitcher shouts for itself. He compiled a 94-46 career record, 17 shutouts, and a 2.24 ERA. From 1915-17 he won 65 games, more than any other lefty. His A.L. record of nine shutouts in a season (1916) by a southpaw still stands.
Ruth's 14-inning. 2-1 victory over Brooklyn in Game 2 of the 1916 World Series remains the longest complete game in the fall classic's history. After a first-inning inside-the-park home run by Hy Myers, Ruth did not allow a run to begin a then-record 29.2 scoreless-inning streak in Series pitching.
But the focus here is on 1919, the year of gradual metamorphosis from pitcher to full-time slugger. It remains perhaps the most unusual and under-appreciated performance by any player in the game's history.
As a pitcher, Ruth went 9-5 with a 2.97 ERA, completing 12 of 15 starts. He relieved in two games, winning one and earning what today is termed a save in the other.
Some current players would gladly settle for Ruth's pitching record as their full-time contribution over a season, but that was just the lesser fraction of his production for the Red Sox in 1919.
At bat, Ruth set a big league record with 29 home runs, 17 more than any other major league player that year, while driving in 114 runs, scoring 103, batting .322, slugging .657, and even ran out 12 triples. He led the league in home runs, RBI, and runs. finished second in walks, fifth in doubles, sixth in triples, and eighth in batting average, while still taking turns as a starting pitcher.