The search for a perfect order - baseball lineups, batting order - includes related articles on various aspects of the lineup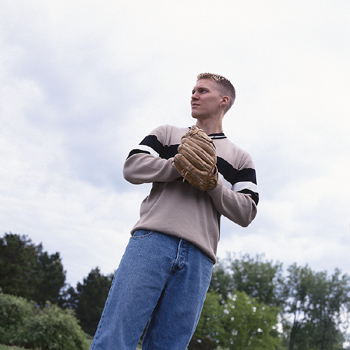 Filling out the lineup card isn't what it used to be. Why would Tony La Russa use 146 variations--and bat the pitcher eighth? Free agency and expansion are two reasons. Trying to keep everyone happy is another.
In the good ol' days, when a game program and roster sheet were good for most of the season, managers, players and fans came to the ballpark knowing one fact of baseball life rarely changed-the lineup. Posting the batting order was as simple and predictable as writing out Morgan, Bench and Perez.
Not anymore.
From Anaheim to Boston, from Montreal to Miami, every team in the major leagues is facing some sort of lineup crisis. The defending National League champion Padres have problems with slots 1, 3, 5 and 7. The Braves and Astros, playoff teams a year ago, are wondering how they can replace All-Stars Andres Galarraga and Moises Alou, both out for the season. The Diamondbacks spent $120 million on players during the winter and still have holes. Even the champion Yankees are suffering, having lost manager Joe Torre to cancer surgery for up to three months. After all, it's the manager who writes out the lineup.
Expansion, free agency and the growing disparity in big-revenue/small-revenue payrolls have led to constant player movement-often leaving roster spots to past-their-prime veterans and young hopefuls who should be in Class AA, not on big-league per diems. As a result, writing out the lineup requires not only a good Sharpie, but a manager with a personality that combines sensitivity and respect with gentle authority. He has to bridge the issues of a player's salary, experience and ego, as well as running the game, working batter vs. pitcher matchups and enhancing player development.
Even then there's no guarantee of finding the right combination. Sometimes the most experienced managers must take dramatic measures. Look at the Cardinals' Tony La Russa. Last year, while using a whopping 146 different lineups, he started batting his pitcher eighth.
A month's worth of spring training games did little to rectify the lineup ills that plague most teams in 1999. Roughly half the 30 clubs have trouble at leadoff, perhaps the most important position in the batting order, and another dozen have players batting cleanup who shouldn't be there. Platooning is more prevalent than at any time in history, and serious injuries were especially crippling to some teams this spring.
"There's no question it's tougher to manage today than it's ever been," says Rockies manager Jim Leyland, who used a major league-record 27 rookies last year during the Marlins' salary-downsizing season. "We were just trying to keep our heads above the water, and it's hard to do that with that many people coming and going."
Making out the batting order is one of the earliest-known and simplest facets of the game. Nine batters take turns going to the plate, undeterred by the fact that they will fail to get a hit 73.4 percent of the time. Each position in the order requires a certain skill, sometimes a selfless adaptability, to the game in progress--though the skills and responsibilities needed at each position in the order have not altered greatly over the past 50 years.
"In many ways, the playing of the game on the field is the same as it ever has been," says the Giants' Dusty Baker, probably the most respected by his players of any manager in the big leagues. "The guys batting first and second have to get on base and score; the third, fourth and fifth hitters have to drive them in; the six and seven guys have to be two-out clutch men; and No. 8 has to lead off innings or get on base with two outs so you don't start an inning with a pitcher batting."
But with 30 teams and an average salary of about $1.5 million, finding players willing to perform those duties is one thing, being able to afford them is quite another. Few want to be role players, even though injuries, trades or slumps might position the player for a lot of playing time. "Everybody cares about their numbers because that's how they get paid," Baker says.
"Sometimes I don't think these players understand," Reds manager Jack McKeon says. "If you do the little things to put up numbers that might help your buddy batting behind you and the guy batting behind him, it will help you."
Dodgers general manager Kevin Malone says managers now realize that a third of their roster might turn over from the previous season, creating vacancies and lineup issues each new season. "Even though one might think economics creates stability," he says, "it really creates more instability because of the constant movement of players chasing after the highest dollar."
Malone is right. Of the 144 free agents in this year's class, 103 switched teams. But with so many teams, high turnover also means opportunities somewhere. The Royals had 20 minor league free agents (the Braves had none) among their 69 players in camp. The Reds have promising but unproven players at first, second, third and center field--but veterans waiting in the background in case they fail.
"When you approach building your team for the next season," Malone says, "you have this Utopian lineup in your mind. You try to structure a lineup or a team that can win based on certain statistical production and consistency and durability. But because of a lack of talent and the watered-down effect of having so many clubs, it's a lineup that's often just a model. And it may be a model that you can only build in a perfect world."
Don't kid yourself: Players have a say in the way a lineup is written out. Some stars such as the Padres' Tony Gwynn, the Reds' Barry Larkin, the Giants' Barry Bonds and the Rangers' Ivan Rodriguez move around in the order without a hitch or complaint, doing their jobs in a manner that has all four on course for the Hall of Fame.
"No. 1, No. 2, No. 3-heck, I don't care where I'm hitting as long as I get my hacks and it helps the team," says Gwynn, 39, who is 72 hits shy of 3,000. "I'm getting so old that maybe I should bat lower in the order so I don't have to get up and down so much. If my old knees hold up, heck, I'm thinking I might play until I'm 60."
But for some players, like the White Sox's Frank Thomas and Dodgers' Gary Sheffield at No. 3, a position in the order is akin to a soft, old shoe. "You get comfortable," Thomas says, "because you know your role and you know what kind of pitches you're going to see. It's really no different than being on the same job for a long time. You know what it takes to get that job done each day."
And therein lies the greatest lineup quandary of managers today-balancing the good of the team with the desires of the players. All three of Bonds' MVP awards have come in years in which he batted No. 5, yet he has spent most of his seven seasons with the Giants batting No. 3, where he will hit again this season.
"You can't buffer them. That never lasts," says Dodgers manager Davey Johnson, a master of working his roster in game situations. "You've basically got to be right all the time. It's as simple as that."
Since the days of John McGraw and Casey Stengel, players have complained about being platooned, double-switched and moved around in the order. Managers have long had a deaf ear. "But it was different in the old days," Leyland says. "(A manager) has got to make adjustments, learn to go with the flow a little and basically understand the players. I don't know whether I'm proud to say this or ashamed to say this, but this whole navy belongs to the players. And the truth be known, if they don't want you as a manager, you're gone."
Highly respected managers such as Leyland, Baker and Montreal's Felipe Alou believe much of their success on the field is attributed to their interpersonal skills in the clubhouse. Players are now from all parts of the world, from different cultures and upbringing. There are guys making $10 million on one side of the clubhouse and $200,000 on the other. And many young players are by-products of a parenting society that spoils their kids. "Kids don't have to work for things like they used to," Baker says.
So when the lineup is posted, there's a good chance of someone grousing. Leyland, who spent 11 years managing in the minors, has always had tremendous loyalty from his players. "He respects you and cares about you; yet he's still very much the man in charge," says the Mets' Bobby Bonilla, who played for Leyland at Pittsburgh and Florida.
"I think for guys like me and Dusty and Felipe, patience is No. 1," Leyland says. "You have to remember that the game is played by human beings. Not mechanical men or robots."
Earl Weaver scoffs.
"The Griffeys, Bondses, McGwires and Sosas, they go out and play hard every day," says Weaver, the Hall of Fame manager not known for his timid, sensitive nature. "You're going to have a few bad apples in any sport, and to me, that's the only adjustment that the manager has to make. He's stuck with them because of their contract.