Warts and all, it's going to be some postseason - baseball - includes related articles on various aspects of baseball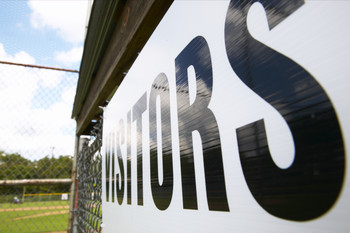 There are no perfect teams, which distinguishes this season from last. Last October, everyone had a pretty good idea which team was going to win it all. And the Yankees did, in a World Series sweep of the Padres. Ho hum.
Baseball 1999, however, is filled with teams that are strong yet flawed. Everybody has a ding or a dent. That makes for an intriguing and unpredictable postseason. Sure, some teams look better than others. But not one looks impenetrable, unyielding, undeniable.
There isn't even one clear favorite.
Not too many conclusions can be drawn from a season that will end with several teams in the 95- to 100-victory range. Yet as the playoffs draw near, the National League's best appear vaguely superior to the American League's best, most of which were having pitching problems of varying degrees. So, that's our one bold prediction for this postseason. A National League team will win it.
Better make that might win it. Things change from week to week, sentence to sentence.
"Everyone has strengths and weaknesses. Everyone can be had," says Yankees G.M. Brian Cashman. "Everybody in it is a threat. It seems everyone's been the flavor of the week. Three weeks ago, it was the Mets. Two weeks ago, it was the Indians. Now it's the Braves. Next week, it could be us. It's going to be a tough field to handicap. Everyone is capable."
Some like the Braves, as together as any team and as hot as the city in which they play. Some prefer the Diamondbacks, who have power pitching and power hitting. Some like the Red Sox, who set up a little like the 1988 Dodgers, who surprised everyone. Everyone has something to like and something not to like.
It's the what's-not-to-like part that could determine who wins it, so that's what we'll deal with here.
The Braves have shown more heart and resolve than anyone after losing Andres Galarraga, Javy Lopez and Kerry Ligtenberg. They are our narrow favorites, truly something considering they don't have a true cleanup hitter, starting first baseman, catcher, or even a No. 1 or 2 hitter. Gerald Williams has proved he deserves to be an everyday player, but neither he nor Bret Boone, who follows him at the top of the batting order, has a particularly high on-base percentage.
The demise of the pitching staff is greatly exaggerated, it turns out. But remember, the big three of Greg Maddux, Tom Glavine and John Smoltz carried them to only one World Series title in all those years when the team was at or near full strength. Smoltz isn't at full strength this season after suffering an elbow injury. But he has picked up admirers as well as victories by revamping his windup and continuing to pitch through injury.
Like the Braves, the Astros deserve medals of valor for keeping things together despite devastating injuries. Yet the absence of Moises Alou will hurt even more in playoff matchups, where the opposing team will be more apt to pitch around Jeff Bagwell, who led the majors with 140 walks entering the week. The Astros--like no other contender--rely on two players, and if Bagwell or Craig Biggio isn't on, they will be in trouble. The team is particularly vulnerable to righthanded pitching, as its .262 batting average attests. The Astros still have superb starting pitching, but there's a question whether the middle relievers, vital against the best hitting teams, can get them to dynamic closer Billy Wagner.
The Diamondbacks finally filled their biggest need, coming up with Matt Mantei as their closer. Actually, Arizona might have fewer weaknesses than anyone. It's being nit-picky, but the Diamondbacks are not as good against righthanded pitching, no surprise because Matt Williams and Jay Bell are key producers. They're batting .271 and slugging .448 against righthanders (compared to .287, .477 vs. left). And it's hard to project how Mantei, Hanley Frias, Erubiel Durazo and Omar Daal will hold up under pressure.
The Reds have a great bullpen, anchored by youngsters Scott Williamson and Danny Graves, but it is inexperienced and well-worn. Graves and Scott Sullivan have more than 100 innings pitched, and Williamson is getting there. Cincinnati is more solid than most realize. One question is catcher Eddie Taubensee, who has thrown out only 13 of 101 would-be basestealers. The Reds have kids all over the field, and teams this young usually don't appear in the World Series. Though nobody envisioned they'd get this far.
The Mets are not playing particularly well of late. Nor have they played well against the four N.L. contenders. There's no evidence they can beat Atlanta or Arizona, who had a 14-4 record against them. Plus, their vaunted lineup has looked limp, bad for a team so dependent on offense.
Across town, the Yankees' starting pitching is a big advantage, but they never know what they're going to get from Roger Clemens and they can't be sure how much David Cone has left. If those two are no better than ordinary, the Yankees could be in trouble. Things also get hairy whenever a grounder is hit Chuck Knoblauch's way. He has 26 errors.
If they're feeling up to it, the Indians always loom as a major threat. Third baseman Travis Fryman and catcher Sandy Alomar, a noted Yankees killer, are playing through injuries. Cleveland has yet to prove it can play with the big boys. It is 10-22 against the other playoffbound teams.
The Rangers can hit with the Indians, but they can't pitch with anyone. Their back-end bullpen duo of rookie Jeff Zimmerman and former World Series MVP John Wetteland is superb. The question is how to get to them. Overall, the Rangers' team ERA was 5.11 entering the week. Worse was their league-high 1,564 hits allowed in 1,367 1/3 innings. It's hard to imagine a pitching staff that allows opposing batters to hit .289 against it making it to the World Series. Playoff patsies in the past, Texas also will have to overcome a psychological barrier.
The Red Sox have overcome all odds to make it this far. Now, they need to overcome history--81 years of it. Like the '88 Dodgers, they have one star player (Nomar Garciaparra; L.A.'s was Kirk Gibson) and one star pitcher (Pedro Martinez; L.A.'s was Orel Hershiser). With average talent elsewhere, they're going to need a little magic. But in this evenly-balanced year, no one should be discounted.
Nobody covers the baseball playoffs like TSN Online. We'll give you in-depth scouting reports on each team, analyze each positional matchup, plus revisit the history of each playoff team. And don't forget to play our Bracket Game for a chance to win a trip to spring training in 2000. On October 4, go to:
sportingnews.com/baseball/playoffs
RELATED ARTICLE: Calling 'em as I see 'em
by Mark Bonavit
Season in review
The regular season is coming to a dose, and it's time to reflect. Though I will not "crawl back into my hole of baseball ignorance," as a disagreeing fan once suggested, I will admit to blunders. I would also like to discuss a few other statements from this season.
* Predicting Boston's imminent demise. Twice. It turns out the Red Sox's early-season success had nothing to do with smoke and mirrors. And though it's a challenge to name their outfield or list all 13 pitchers who have started this season, there's no question they've assembled a fine cast of players. Pedro Martinez and Nomar Garciaparra haven't led the club to the playoffs without support. It has taken the continued prosperity of folks such as Brian Daubach, Jason Varitek, Mike Stanley and Jose Offerman for the team to come this far. It also has been a boon to the team's performance that Bret Saberhagen has stayed relatively healthy and that Tim Wakefield, Derek Lowe and Rod Beck have been effective as closers since Tom Gordon was lost for the season. Now, they get another shot at getting past the first round of the playoffs for the first time since '86, which includes four appearances. Take a guess at what I think they'll do.
* A floating strike zone. The claim was that certain veterans deserve preferential treatment; Greg Maddux and Tom Glavine should get the outside strike, and Tony Gwynn should get close calls. This does not mean Terrell Davis should get a first down if he's short of the marker or Karl Malone should get credit for a missed free-throw attempt if it runs out. What it does mean, though, is that certain defensive backs and wide receivers should get away with extra contact and a few basketball players should be able to take an extra step or two on a drive.
* Calling for Cal Ripken's retirement. Although there were times when it seemed Ripken should retire, it was nice to see him have his best year since '94. Now that his season has ended nine hits short of 3,000 because of back surgery, here's to Ripken coming back for one more year.