Washington Post staff writer Barry Svrluga talks baseball in the nation's capital -- every Wednesday.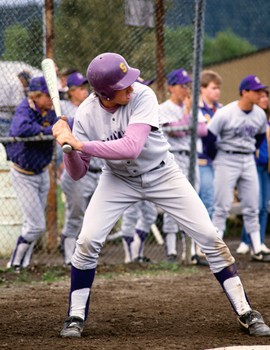 Barry Svrluga: Hello folks. Live from Miller Park, where Preston Wilson arrived at about 11:20 local time, and he'll hit fifth today, playing center field.
Sorry I'm late, but let's get started -- with the chat, and with the second half of the season.
Silver Spring, Md.: The nats just traded for center fielder Preston Wilson. I believe this move will allow Wilkerson to play first until Johnson returns from the disabled list, when he does return Wilkerson will play left field. This move works in that sense, but I am worried that Wilson's offensive numbers were bulked up by playing in the thin Colorado air. Also, this move gives playing time to a thirty something outfielder with a bad knee (Wilson) by placing one of our most promising young players on the bench (Church). Does this trade mean that Bowden will try to include Church in a package for pitching help. If this is not the case will church be anything more than a 4th outfielder in the second half on the season?
Barry Svrluga: My esteemed colleague, Thomas Boswell, thinks like you do, that Church could be packaged for a front-line pitcher. I tend to disagree. I think Wilson's addition makes the club deeper, because when Johnson gets healthy, the bench includes both Church and Marlon Byrd. Now, if Wilson doesn't produce, will Manager Frank Robinson pull the plug quickly and insert Church and/or Byrd? We'll have to see.
You're right about Wilkerson at first base. That's where he'll play today -- and every day until Johnson returns.
_______________________
Section 535: So I understand the Preston Wilson move (there wasn't a better power-hitting option available right now and the Nats desperately need another bat), but Mike Stanton? Is he one of those 'if he works out, great, if not, it's no big loss' type of moves?
washingtonpost.com: Nats Trade for Rockies' Wilson (Post, July 14)
Barry Svrluga: Yes, absolutely, that's what this is about. He's making the major league minimum, so the risk is minimal. Plus, he still gets left-handed hitters out; witness his .176 they hit against him during his stint this year with the Yankees.
He seemed ready to get out of New York, too. We'll see.
_______________________
Washington, D.C.: Nice article today Barry, lets hope the Nats can keep it up! One thing you didn't mention (which you seem to mention in EVERY article you write) is the dank and drab RFK Stadium, why not? Getting tired of trashing a Washington Institution or are you starting to warm up to it? I must assume you didn't grow up in this area because
if you did, you'd realize how much history and memories that place holds for real Washingtonians. It's got better sight lines than many of the new ballparks and more leg room than any park in the majors. It's an awesome place so quit trashing it.
washingtonpost.com: Can They Be Kings? (Post, July 14)
Nats Trade for Rockies' Wilson (Post, July 14)
Barry Svrluga: Duly noted, and I do understand the warm fuzzy feelings, particularly from Redskins fans (and, of course, fans of the old Senators). It's not the place itself that bothers me. It's the general dirty conditions that seem to be hard to wash away. The players and coaches certainly notice that.
As a temporary home, though, it's fine.
_______________________
Alexandria, Va.: What is your idea on when Nick Johnson will be ready?
Barry Svrluga: This is an intriguing question. Today, word is that he'll be in a protective boot for another week or so. Then, presumably, he'll need time to get into playing shape. I'm thinking two more weeks. No one, however, is giving a hard timetable.
_______________________
Washington, D.C.: Boz writes this morning:
"Any long-term thinker would insist that Church's development take precedence over Wilson's arrival. But Church's stock is as high as his .325 average. What starting pitcher could you get for Church and Tony Armas Jr.? The answer might be, almost anybody on the market."
Is this fair speculation? I know Trader Jim probably isn't done, but could we see another big deal in the next two weeks?
washingtonpost.com: Boswell: After the Dog Days of Summer, Will the Nats Still Have Their Bite? (Post, July 14)
Barry Svrluga: We could definitely see another deal, particularly for pitching, but I think Armas would be hard to package because he's a free agent at the end of the year. Church is really as attractive a commodity as the Nationals have, which is why Boz argues that his stock is high, why not get something for him now? But Bowden does love Church, so we'll have to see if his name comes up.
_______________________
Washington, D.C.: Could you post the lineups for today's game?
Barry Svrluga: Sure:
Washington
Wilkerson -- 1B
Byrd -- LF (because lefty Doug Davis starts for Milwaukee)
Vidro -- 2B
Guillen -- RF
Wilson -- CF (wearing No. 44)
Castilla -- 3B
Schneider -- C
Guzman -- SS
Patterson -- P
Milwaukee
Clark -- CF
Weeks -- 2B
Overbay -- 1B
Lee -- LF
Jenkins -- RF
Hall -- SS
Branyan -- 3B
Miller -- C
Davis -- P
_______________________
Silver Spring, Md.: Last Wednesday, Aaron Heilman entered the game with two outs in the seventh, the Mets up 4-3, and faced Jose Guillen. He got Guillen to ground out and then threw two hitless innings. Yet, his name didn't appear in your game story even though he was clearly the star of the game. How is that possible?
Barry Svrluga: Interesting criticism, and a fair point. Game stories are an odd thing. Some people want strict play-by-play. But I feel much of that is in the "how the runs scored" feature that runs with the box score. As a result, we try to tell a story about the game and the characters involved. Because I cover the Nationals as the home team, it is obviously slanted from a Washington perspective, and sometimes, someone like Heilman -- even if he records some of the key outs -- gets overlooked.
The New York papers, I'm sure, didn't forget about him.
_______________________
Washington, D.C.: Wilson makes the club deeper? He's TERRIBLE. One of the worst regulars in baseball outside of Coors Field. And it means benching Church, something the Nats can ill-afford to do with Wilson's less than stellar offense. This was a terrible idea, and there's no conceivable way this can be looked at as a good thing.
Barry Svrluga: Another country heard from. That's why trades are great at this time of year -- they all involve risk. There's a chance that Zach Day could've come back for the Nationals and pitched well; he'd done it in Montreal.
I would say this, though: Just because Wilson starts now doesn't mean he has to play every day if he struggles as badly as you predict. If he does, and Church and/or Byrd play well, wouldn't it be ludicrous to keep playing Wilson?
_______________________
Glover Park, DC: I've gone to several Nats games this year where there have been rain delays during the game (a game vs. the Mets early in the season and a game vs. the Pirates on June 29). Both times, the ground crew started unrolling the tarp about 50 yards behind the infield, and both they were unable to get it to cover the entire infield. My question is, is it a common occurence during a rain delay that the Nats' ground crew can't cover the field? Wouldn't it make more sense to start unrolling the tarp closer to the infield so that they can get it to cover the area needed to be covered (rather than short right field as it was on those two occasions)? Or, should I just be resigned to the fact that the grounds crew is inept?
It seems to me that this is something they should resolve, as their inability caused the delay during the Pirates game to last a half hour longer than it should have because the ground crew had to dump bags of dirt on the third base line.
Barry Svrluga: Glover Park, you are observant -- and correct. The grounds crew is something like the organization as a whole -- still learning. At least their performance has ceased being comical and now is just sub-par.
_______________________
Fantasyland, USA: How do you reconcile the Bowden loves Church claim with the Bowden traded for Church's replacement fact? Unless Wilson's going to platoon with Church, in which case it's a substantial waste of money.
Barry Svrluga: Because Bowden didn't trade Church, which he could have.
Keep in mind: Church wasn't playing every day before he got hurt. He was still platooning with Byrd. And again, if Wilson doesn't work out, HE could be benched, not Church.
Let's see how Church does this weekend, too, the first time he'll have played in three weeks.